Welcome to Amfiliki
AND SKIATHOS ISLAND
  Skiathos is one of the most beautiful islands in the Aegean Sea. A lush, green paradise, this lively island offers amazing beaches, beautiful sunsets and friendly people. 
View Menu
View rooms
The restaurant, a family business, was inaugurated in 1993. Today it is still run by the same owners who, with their long and precious experience in the field of genuine and authentic Greek cuisine, have eventually made it famous.It is probably the only place on the island in which seafood, fresh fish and delicious marine amuse-gueules are available at any time. All the dishes in this restaurant are always prepared with fresh, carefully selected and genuine organic products from their own vegetable gardens. Now, if you add all this to the owners' long experience as well as to the deep sense of responsibility that distinguishes them all, you will easily understand why those exquisite and rare flavours that you can enjoy when having a meal at their place are and will ever remain an unforgettable experience. It is also good not to forget that there is one more detail that may matter a lot to many of us : the restaurant offers a magnificent and unrestricted view on the sea with the well-known "Kalamaki cape" and the isles of "Small Tsougrias" and "Big Tsougrias" in the background.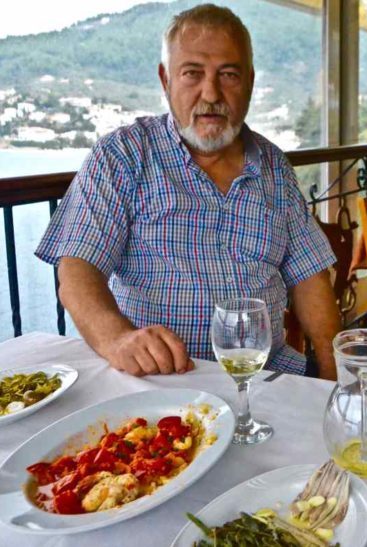 In the same building you will find our traditional family tavern & pension, which shares the same name with our pension Amfiliki. Our tavern is known for its delicious Skiathitian cuisine. Choose…
From saltwater and freshwater fish to deep water shellfish, seafood is a beloved delicacy. Seafood is nutrient-rich, serves as a good source of protein, vitamins and minerals and is rich in omega-3 fatty acids and in the reduction of common diseases. So as you embark on yet another crawfish boil or fish fry, know that the seafood you're consuming will yield many benefits!
Food is a huge part of Greek culture. It has to do with much more than just flavors and dishes. It has to do with the excellent ingredients, the lengthy procedure involved in preparing the food, and the culture of sharing dishes with others. Essentially, it has to do with bonding with others through one of life's greatest pleasures. That's why a food in Greece is so special!
Nutritional Benefits. Seafood is a nutrient rich food that is a good source of protein, vitamins and minerals. Scientific studies continue to explore the relationship between the unique type of fat found in seafood, the omega-3 fatty acids DHA and EPA, in the prevention or mitigation of common chronic diseases.
AMFILIKI Tavern & Pension is opened every day from

  09:00am – 12:00pm for breakfast
12:00pm – 12:00pm for food
so you can choose your perfect time to come. 
Free Parking
Near the AMFILIKI Tavern & Pension is free local parking of Skiathos with capacity of approximately 100 vehicles
Contact Us
Don't be shy. Let us know if you have any questions!